TMINT x LE BOOK stage discussion on luxury in the metaverse
As part of the event Into the Metaverse hosted in Milan at 10 Corso Como, curatorial agency TMINT in partnership with creative platform LE BOOK organized a panel discussion on luxury in the metaverse. This was the latest edition in an ongoing series of IRL events that explores both art and fashion and their applications in the web3 space.
Panelists included Marjorie Hernandez (DMAT/LUKSO), Pierre-Nicolas Hurstel (Arianee), Serena Tabacchi (The Sandbox), Stefano Rosso (BVX/D-CAVE) and the discussion was moderated by James Joseph (CYBR/TMINT). Each speaker gave a brief power point presentation which outlined their respective projects. After these introductory remarks an open discussion began.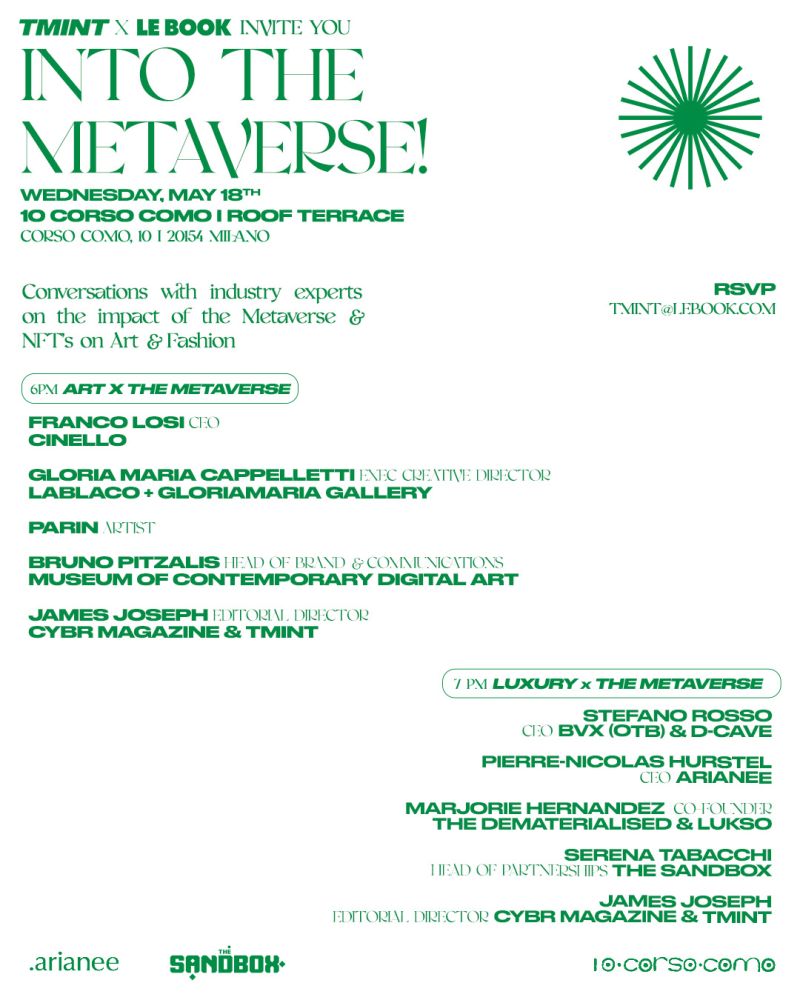 Rosso spoke about the difficulties he and his team faced in managing expectations on Discord. The idea was shared that constant communication is necessary in the space when building community, but that communication becomes challenging around the time of a drop, when passions become enflamed and monetary concerns rise to the forefront. Tabacchi mentioned the difficulties in locating and retaining top talent when building virtual worlds, which can be expensive. She also discussed aesthetics and the preferred visual style among gamers and those who frequent popular virtual worlds.
Hurstel spoke about scarcity and why luxury brands gravitated to the concept of NFTs fairly quickly. Hernandez emphasised how important it is to onboard mainstream users in a quick and simple manner, while also discussing Universal Profiles as the way forward for expressing identity and functioning seamlessly among web3 protocols. At one point Hernandez and Hurstel disagreed strongly about the actual number of users in the space, with Hurstel citing that there were around 50M users of Metamask and Hernandez refuting that number and claiming that there are only really around 1M people active with crypto wallets. Joseph spoke at one point from the position of a user, lamenting the fact that NFT pricing has gotten out of control and out of touch with the realities of most people who are not crypto whales. Joseph also spoke about the interoperability of assets and how crucial it will be in web3, while others on the panel concurred that many people need to be working on solutions to that particular problem.
Overall the panel was a potent and high-level conversation that provided great insight from visionary individuals on the front lines of working with brands and building communities in this exciting new world. As Hernandez stated at one point during the conversation, we are in the midst of the greatest disruption that the luxury and fashion worlds will ever know. There are opportunities everywhere, and Hernandez urged those that are interested and able to dive right in. View the full panel below.