Talia Zoref of Eyes of Fashion discusses the need to create equitable spaces
We spoke with Talia Zoref, creator of the Eyes of Fashion NFT collection. Zoref is an artist and illustrator who captures the best of luxury and fashion with her brushstrokes. She has worked with iconic brands such as Chanel, Fendi, Dior and MAC. Eyes of Fashion is a collection of 8,888 fine art NFTs with 250+ hand-drawn vibrant traits created by Zoref, who was inspired by the contrast between the colorful and fun fashion world and the judging eye that belittles the industry.
Most recently Zoref's work was selected for the NFT.NYC 2022 Diversity of NFTs Art Collection. The collection will be displayed on Times Square during the conference and some of the pieces will be available to mint. The following conversation has been edited for clarity and length.
What are the unique contributions of illustration to fashion?
The unique contributions of illustrations to fashion are showing a vision in an artistic way that does not necessarily attach to reality but is more of how the artist sees the garment from their unique perspective. Through fashion illustration we can communicate ideas in an interesting, creative way. Art provokes feelings, and fashion illustrations add a feeling and essence to the garment.
Your NFT fashion project is structured around eyes. Tell us about the symbolic significance of eyes and why they attract you as a motif?
The eyes are inspired by the contrast between the colorful and fun fashion world and the judging eye on us as creators, women and dreamers. Through this character I created a fun but critical view of the fashion world, where creative, free and original characters coexist with judgmental and critical figures. These illustrations were created at a time when I was disturbed by the subject of judgment while attending fashion shows all over the world, and I felt the need to address it through my art. I expressed my feelings through eyes-only dialogue characters, to which I added curly and long lashes that are hallmarks of my illustrations.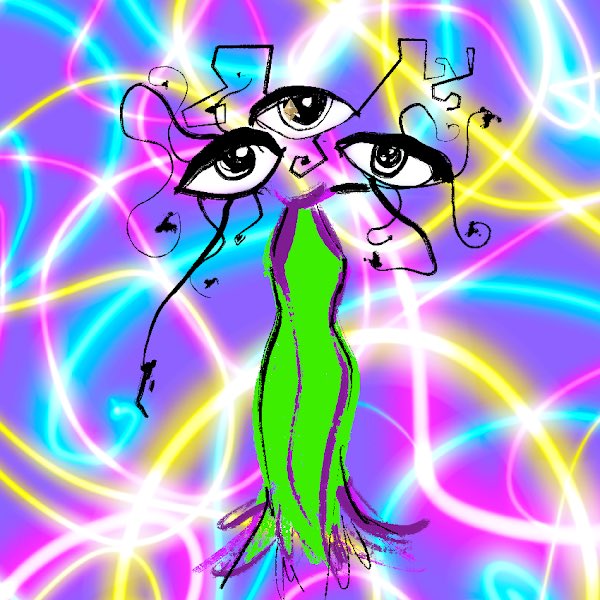 Eyes of Fashion has embarked on a number of exciting partnerships this year. What do you look for in a partner and how do you like to collaborate?
We look for partners that align with our mission in order to create fun, artistic experiences worldwide that align with our 4 pillars: fashion, art, women empowerment and education.  We enjoy bridging fashion and art lovers and brands from web2 to web3 in various ways. We love collaborating on art licensing & custom designs, creating Eyes of Fashion products, speaking and education engagements, metaverse event and IRL activations, fashion wearables and giving our holders access to special offers and products from brands.
What inspired you to move from more traditional spaces into web3?
What inspired me was the fact that I could meet so many inspiring people in web3 as well as build a passionate community and combine my art with values I care about. Going into web3, I met so many supportive and inspiring people from all over the world. I am in awe of the diversity that web3 has to offer and the opportunities. In web3 you can connect art and innovation with community in a really powerful way and make a positive difference.
Can you give us a preview of what is on the horizon for both you as an artist and for Eyes of Fashion?
For me as an artist I aim to do good and inspire through my art, impacting the world in a positive way as well as collaborating with brands internationally. I would like to inspire people to follow their dreams through my art and to bring them joy. For Eyes of Fashion we are working on so many amazing initiatives in 3 main areas: art, fashion, women empowerment through education. We aim to partner and collaborate with brands and showcase Eyes of Fashion worldwide. On the fashion side, to bridge the gap between the physical and digital worlds for web3 enthusiasts to showcase their unique style. To lift up women, we have to share the knowledge and opportunities that are available. Access to this information is key to creating a more equitable space for women.